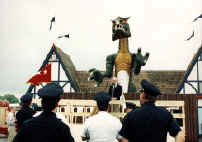 Shireland did re-open for a brief time in 1991, but rumor has it that it did not make it through the entire season.
It would be interesting to know why the park didn't open in 1989 and 1990. I could speculate that it had to do with the volatile nature of creator Thomas Smrt, and his inability to employ and maintain a staff. I could equally speculate that Smrt's impetuous nature sent him off on two other dozen projects, causing him to lose interest.
Through it all, I am convinced that Thomas Smrt could not, nor did not conceive, plan and develop this park on his own. If you worked at Shireland and/or have any "behind-the-scenes" knowledge, please contact me.
You can see a video (hear it, is a better term) that has some of the big-top show music in it. It is a little hard to hear, because the videographer wasn't in the big top. He was actually videotaping his kids walking around another part of the park. PRESS HERE to be taken to it.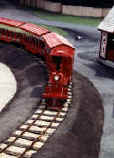 Wanna see a video of the
train ride? Click Here